If you are a small to medium company just starting out on your exporting journey, chances are that you will be relying on indirect or channel sales to accelerate your sales. In many cases that means that you need to define your ideal distributor company profile, to be in a better position to select the right partner for your company.
What is a distributor?
Just for the definition: a distributor is a company in the local market who buys your goods from you and then takes full responsibility for selling them on in the overseas market. So a distributor is your direct customer. This is why this style of selling is often described as indirect sales because you are not selling to your end-customer, but instead to a middleman who then sells on to your final consumers.
For most SMEs a distributor is the best way to enter into a market (unless you are ecommerce based) so your need to consider what makes a distributor the right partner for you.
Your distributor in an overseas market is your representative and the face of your products usually in that country so the choice of the RIGHT partner is a cornerstone of your future success, which is where having an ideal distributor company profile comes in.
Why should you use a distribution partner?
Leverage
As a new exporter to a market, you probably can't afford to have a whole sales and marketing organisation on the ground working for your brand. However, if you partner with an existing organisation, you can use the power of their teams to sell your product.
Simplicity.
Distributors enable you to access international markets while avoiding logistics issues and many trade-related risks. If you are working with the right partner then your life should become considerably simpler as they will know how to navigate the challenges of operating successfully in their home market.
That's because the distributor is usually responsible for the shipment of goods, and the accompanying customs formalities and paperwork. These can all be a real headache especially if you are new to exporting, or your target market has complicated requirements. Even if you need to provide them with certain documents, your import partner should be able to guide you through the pitfalls for their market.
Contacts and connections
It's easier for a distributor with an established reputation and contacts list to introduce a new brand to the market than it would be for you. They know how the market works and also have the power of their existing portfolio to help persuade retailers (don't underestimate this argument in the trade).
However those connections don't end there. In many markets of the world having the right connections means the difference between struggling and thriving. In China, having solid guanxi with the Customs authorities (I'm not talking about bribing them, just about them knowing that your distributor is reliable) can mean the difference between every shipment being checked down to the nth detail, resulting in additional costs & loss of time, and being randomly checked every so often.
If you have a really powerful distributor, they may even be able to lobby for adjustments in the law if it is discriminatory towards products from your home country.
Marketing
FMCG distributors generally spend at least something on marketing to support their sales effort, although they will usually expect you to also make a financial contribution. Of course, this isn't something you can 100% rely on that ALL distributors will be prepared to do, but many are prepared to invest a certain amount.
More importantly, if you have the right distribution partner in the market, they can guide you as an exporter to the most effective marketing activities to correctly position your brand in the eyes of the consumers.
Financial Risk
A distributor should manage the financial risk on the market. In many countries payment terms are extremely long, and as a small exporter you don't want to finance the whole chain. Production through to shipping to the overseas market is already enough strain for the cashflow of most exporters (you should use secured payment methods with your distribution partner) but the partner should take over the risk between himself and the resales channels.
Local Stocks
Having stock in country can be a major success factor in markets which have complicated import processes. Most distributors take care of warehousing and inventory control in the overseas market & can deliver swiftly and in small quantities to replenish retailers as required.
Just think how long you would need (& how expensive it would be) for you to deliver 6 pieces to Kaufland in Timisoara, Romania from your UK warehouse vs. having a local distributor who can deliver that carton next day together with any other products from the rest of his portfolio.
What do you need to think about when creating your ideal distributor company profile?
Some points you should consider
What is the coverage of your prospective partner? Who are they selling to? (Do they have the right network for your products)
How do your products fit into their portfolio? Do they have the right level of experience technically & will they give your range focus?
How do you want to work in export markets? If you want to build your brand reputation for the long term (& you should!) then you need a partner who will implement your sales and marketing policies.
Which of the market entry costs do you expect your partner to finance?
Let's dig a little deeper into those points – the list certainly isn't exhaustive but hopefully provides you with food for thought as to what is applicable for your industry:
Coverage
Which kind of companies should your ideal partner be selling to?
Are they powerful enough to get you a high level of weighted distribution within a foreseeable timeframe?
Do they have regional warehouses or logistic centres, especially in larger countries, to ensure fast delivery of your products?
Are their logistics rock solid?
Technical Expertise
what kind of specialisation should they have? It's no good having the country's best alcohol distributor if you are selling skin care products.
what should be their attitude to trainings and continuous professional development?
does the technical expertise stretch through the whole company? Just having one product specialist, with the rest of the sales team having no idea (& caring less) about the technicalities of your product is probably not enough
how much knowledge does the distribution partner need to have in advance vs what you can impart to him in training sessions? Does the company need to have a grounding in for example the way a combustion engine works?
how do your products fit into the portfolio & complement it? If your products fall in the luxury segment, you don't want a partner who sells everything on the promise of being the cheapest on the market.
Bandwidth and Focus
How much resource do you need a distributor to dedicate to your brand? Share of mind and focus at your distributor will be a key factor towards success or not. That can be partly influenced by training, but if the team is already running flat out then you need to consider other methods of motivation.
Usually 10% share of turnover (at least in consumer packaged goods) is a good indication that your products will be treated with a certain level of priority, however you need to work over several years to reach that point in 99% of cases.
Alignment of Values and Working Style
This is one of the most critical points. If you have an extremely ethical style in your company, you probably would be unhappy working with a distribution partner who only cares about squeezing as much money as possible out of partners, and who acts in the grey zone on the edge of the law.
Of course that is an extreme example, but you need to think about what are your core values and what is your working style. Once you've identified that, you can start asking yourself questions around your channel sales strategy such as:
what are your thoughts on having competitor products in the portfolio?
how much influence do you want to have on the pricing policy?
are you a demanding company, who expect a lot of market intel from your partners?
to what extent do marketing activities need to be coordinated with you in advance?
do you want to have the right to veto certain potential distribution channels?
Are they prepared to work with your forecasting systems so that you can ensure a smooth supply to the market?
Do they genuinely care about ensuring no sales opportunities fall through the cracks (in these days of central warehouse deliveries it's easy to have a full warehouse at retail HQ but empty shelves in the regions)
how do you expect the reporting to look? What is the frequency and content you require?
Ability & Willingness to Invest
Distribution isn't a cheap business, so it's essential that your distribution partner stands on a solid financial footing. Consider also which of the costs you expect him to carry:
financial risk for exchange rate fluctuation if you are invoicing in your home currency?
risk of payment defaults from the market, as well as the cash flow implications of the typical payment terms?
what level of stock do you require him to hold?
who will pay for product listings?
promotional and marketing activities?
should there be dedicated persons for your brand (eg brand manager or a sales rep or 2)?
what about merchandising of shelves?
who pays for market research?
do you use a specific software that you require your partners to also use?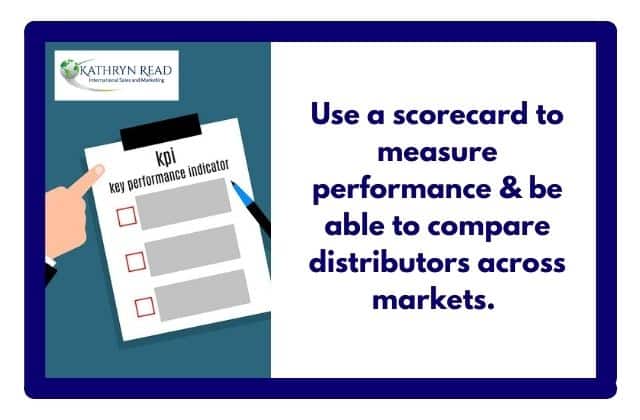 An ideal distributor profile is an essential part of your export preparation
Working with a distributor can be a long term mutually beneficial arrangement, but only if you pick the right partner in the first place, so it pays to consider your criteria in advance. The questions above are a starting point to help you begin to define your requirements, but many companies have no formal framework for doing this, which always amazes me.
Let's think about it. If you were appointing a new regional sales manager for your domestic market, would you just appoint the first person who sent their CV in on the off chance that you had a job available?
Of course not!
If you are selecting a new salesperson for your team you prepare a profile of what skills and qualifications they must bring to the company in order to be considered. You probably also add a list of "nice to have" criteria that your ideal candidate will meet. Going back to our fictitious initiative application from before: if you are recruiting at the time when the CV comes in, the normal thing to do would be to check it against your candidate profile. If there's a match, of course you will consider the person for an interview, however you won't give them the job just because they approached you.
…and it should be the same with your export distribution partners. Just because somebody sends you an enquiry asking for exclusivity with your products in Brazil, doesn't mean you just hand those rights over. Do your due diligence and compare them to your ideal distributor company profile – if there's a match then you can at least shortlist them for the market (I'd definitely recommend looking at others for comparison though).
How to find the ideal distribution partner in a market is a topic for another day, but defining an ideal distributor profile is certainly a start.
If you are working with 3rd party distributors in your export markets, you might also find these posts useful:
Thinking that working with a consultant would accelerate your international expansion?
If you'd like to learn more about working with me for support on your internationalisation projects or personal export knowledge, you can book a 30 minute international clarity call here.
If you haven't already signed up for my free e-book about how to select which international market to enter next, you can do so here, or using the form below.
If you enjoyed this content please share it on social media or recommend it to your network.
Pin this post for later!
If you are interested in working with distribution partners in your export markets, you might find these posts also interesting: